What is qPTM
Previously, we developed the qPhos database to host the quantitative phosphoproteome data, here we update it to qPTM database for 10 types of PTMs including phosphorylation, acetylation, ubiquitylation, glycosylation, methylation, SUMOylation, butyrylation, succinylation, crotonylation and hydroxyisobutyrylation. In total, 4,544,734 quantification events of 10 PTMs for 296,915 sites in 19,641 proteins under 661 conditions are collected and integrated in the database.
How to use qPTM
Quick Search
In the home page of qPTM, users can specify one field or all the fields to perform a quick search with the keyword(s) in the field(s). Users can simply click example and submit buttons to perform an example search.

Browse
In the Browse page, users can click one term to search the specified data in qPTM. The browse page is consisting of three modules including conditions, samples and genes, which are sorted alphabetically. Users can click the initial and select the term of interest.

Advanced Search
In the Search page, users can add more keyword boxes and choose 'AND', 'OR' or 'NOT' to perform a more accurate multiple keywords search. Users can simply click example and submit buttons to perform an example search.

Result
In the Result page, users can view the search or browse results, and further filter them by the options we provide. More information about experiment and protein is also displayed while users click the 'Detail' button.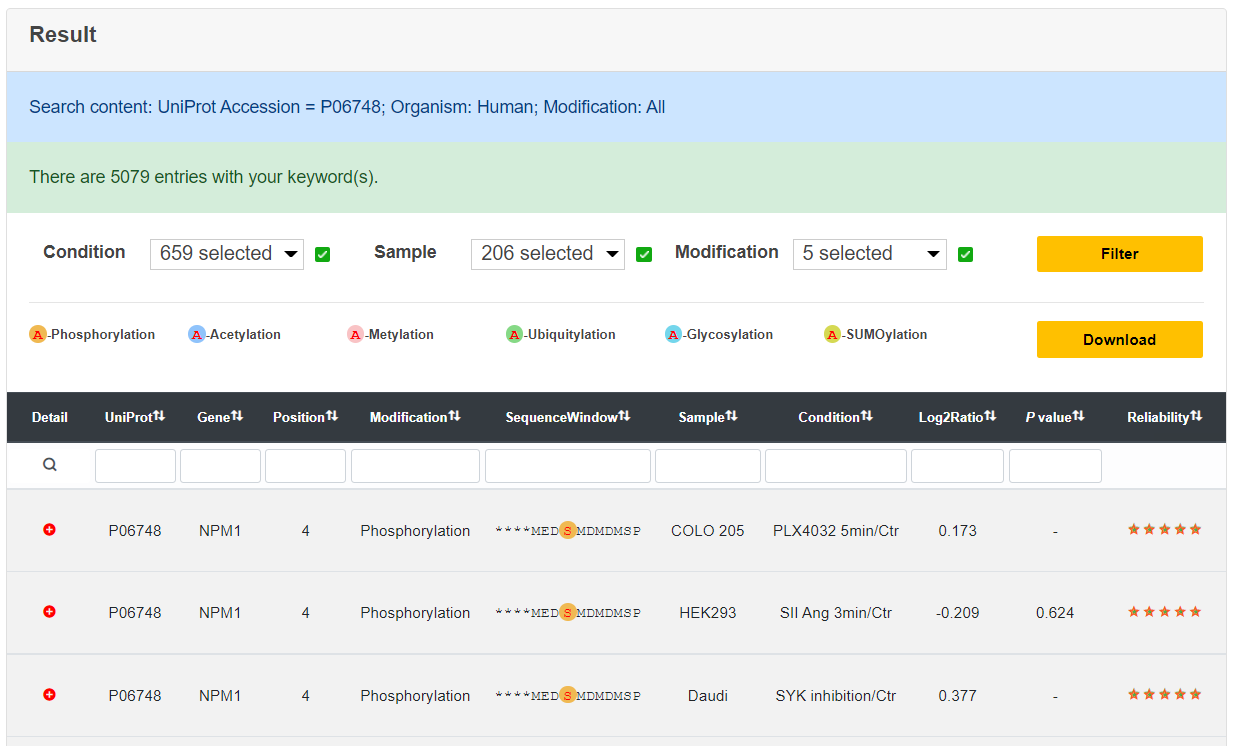 qKinAct Service
+/- means the phosphorylation site is positive/negative related with the kinase activity. auto means the phosphorylation site is an autophosphorylation site of the kinase.